MSC at the hub of things again
Kyle Curinga and Neill Collins are front and center within the Tampa Bay Rowdies - Kyle as right back and Neill as Head Coach. Both will be a part of MSC 2018.
Ok - a little spunk, a little hope. Still need to close down quicker and with more hunger.
Let's not get carried away ... these players will all get good contracts if they already don't have them.
Wrong about Bruce...What a disappointment
There is no way to express the extreme disappointment in Bruce Arena and the players not making it to Russia.
Lazy, poor attitudes, overpaid. None of us care if you make tons of money. We are happy for this.
But earn it out there fighting for the USA!
Who are these people? We are very far off the mark. Our country's football is in deep trouble.
We've got to find true Americans to play for our national team ... identified so by the spirit with which they play and coach.
Watch this video from the 2002 World Cup - this is what I mean...fighters...
USA - should be World Cup Champions by 2026, maybe 2022.
It is likely that we will host the World Cup in 2026. If we haven't already won it by then the home field advantage will be the difference-maker.
For every Kyle Curinga out there (see below) pushing his way forward there are three more that we are missing. Every day our ID system gets better.
We have to get focused on this objective of winning the world cup as a nation but its coming.
When MSC started in 1981 it was such an amazingly different world. Think of it:
-No WC qualification for the previous 31 years!
-No Paul Caliguiri goal in Trinidad putting us in the 1990 world cup!
-No 1991 Women's world cup win!
-No 1994 world cup win over Columbia!
-No qualification for second round in 94!
-No MLS!!
-No supporters clubs that have grown up around MLS teams!
-No MLS youth academies!
-No 2nd, 3rd, and 4th division in the US!
-No 1999 Women's world cup win!
-No Women's Olympic gold medals!
-No 2002 world cup quarter-final finish!
-No 2010 world cup run!
-No 2014 world cup run!
-No multiple players in Premier League, Bundesliga, and other top leagues.
When MSC started we could not beat El Salvador, Honduras, Trinidad, Jamaica, Haiti, Costa Rica. We couldn't touch Mexico.
There was no such thing as a Women's world cup.
One would have to be a fool to not see what is coming.
Look at us now. We are finally starting to believe in ourselves. Bruce Arena can deliver a Cup. Klinsman was a joke.
The American spirit is the wild card that the rest of the world fears and people like Klinsman don't understand. As hard as people within our own country try to do it,
they cannot penetrate that spirit. Its deep in our DNA as a nation. Its coming.
Click here for a timeline for US Soccer from 1620 forward...
Curinga Update
Kyle has signed with the Tampa Bay Rowdies
You heard it here first: MSC's Kyle Curinga will be a US World Cup Player in 2022.
There is always so much talk about whether the US can produce players. Well guess what - MSC's own Kyle Curinga has basically produced himself
here in the US. It's a great story....after four years of varsity soccer at CCC and a stellar club career at Strictly Soccer it was time to confront what
was next for Kyle.
We could see that he was the real deal and that unless we got him into one of the top college programs in the US that he would have to take his
game overseas to truly develop since unfortunately US Soccer only looks at players in the US Development Academy. Kyle was unconvinced -
he was determined to try the college route he had seen so many others try.
Florida Atlantic
If you go the the right school the college route can work for you. FAU was not the right school at that time. After a pretty short while Kyle called and
asked if Finland was still an option.
We sent Kyle to 3rd Division GBK in Kokkola, Finland. We talked the GBK coach Chris Corcoran - an American who we were put on to by Ben Mallue - into letting
him have a one-week trial at GBK. Chris agreed to give Kyle his European shot: a one-week trial, a place to stay, food, all of it....except Kyle had
to get himself to Kokkola. That meant a plane trip to Helsinki and a 4.5 hour train ride to Kokkola. The table was set - but was Kyle ready to eat?
Ben Mallue's fingerprints are all over this - it was Ben that suggested Coach Chris Corcoran as a contact in Finland for Kyle and that Finland would be
a good player-development destination for Kyle to do his thing.
Kyle went to the trial but had to wait a few months for the contract offer. Then it came: old-school, spartan, modest....but a foot in the door.
450 Euros a month. One meal per day. A place to live. And a bicycle to get around town! What more does a 20-year-old kid need?
Kyle played at GBK for 2 years, gradually rising to become one of their best players and even getting a modest raise. But Kyle wasn't busy
counting pennies. He knew his day would come if he just worked hard, learned, got better, and stuck with it while remaining humble.
Chris Corcoran recognized Kyle's talent and developed him through his early days as a pro.
The next step was to 2nd division FF Jaro for another year of seasoning. Better competition, a little more money, still on an upward trajectory.
It was time to come back to the states and take the next step. After trials at Tampa Bay Rowdies and at Jacksonville Armada Kyle landed in
Utah with the RSL Monarchs - the reserve squad of the MLS RSL franchise. Kyle settled in quickly, impressing coaches, staff, and teammates.
Kyle signed a short term MLS contract to play in a US Open Cup match with the RSL first team on June 8, 2017.
The story is still unfolding but we know where it is leading - USMNT right back in the 2022 world cup. Mark it down.
Finally! Jurgen needed to go. Bruce Arena is the right choice for US Soccer.
The US will win the World Cup in Men's soccer....and MSC staff member Kyle Curinga will be on the team
2022 or 2026 will be the year it finally happens. Booting Jurgen out was a huge move. Bruce will get us started - then someone
else that understands American players and the American spirit will do the rest. Can't wait!
Sorry - still not sold on Jurgen
It is wrong to heap praise on Klinsman for the success of the US team. In fairness....Jones and Johnson have played very well.
But this performance in the World Cup is down to the players. I am amused at how many commentators - especially former
national team players - are running to the front of the "Jurgen" parade. This performance is about defending as a team. It's
about Team Spirit. Its about belief. Conventional wisdom will have it that the US is benefitting from the presence of Jones and
Johnson and Klinsman (even Brooks) - and they are in the sense that those are good players that are really helping the cause.
But the truth is that Jones and Johnson and Klinsman are benefitting far more because they are getting the chance to experience
what it feels like to be an American that is wrapped up in the spirit of the greatest country in the world.....that is on a mission.
Soccer is loaded with "Group-thinkers" that are busy repeating what each other say. You now see this at play with the rush to
praise Klinsman. The truth is much simpler.....when the US decides its time to do something - look out! There is no stopping the
American spirit! Another piece of the American spirit is that the players will smile and allow Jurgen to take far more credit than he
deserves.
Brazil 2014 - will Jurgen mess this up for us?
The Nonsense Behind Dropping Landon Donovan from the Brazil 2014 Squad.
Since 1981 MSC has dedicated itself to the proposition that in addition to using soccer as a way to build lives
we all have an obligation to pull together to help this nation win a World Cup the "American" way. That means with
a team spirit, a team culture that is uniquely American.
We have climbed the ladder carefully. When MSC started in 1981 the US could not get past the Central American and
Carribean nations - much less Mexico. Now in 2014 we are expected to qualify and be the best among all those nations -
and we are! Why now at this key moment have we handed the keys over to someone that does not understand where
our strength as a nation lies? What happened to Landon was a travesty on so many levels. Landon deserves respect
and loyalty. That strength of values will make our team better. The fact that he is experienced, one of our best players,
and a game-changer/game-winner alone should put him on the roster but even if he was the 23rd/24th/25th/26th player
how do you cut him - and do it the way it was done? This seems personal, vindictive. Not in the spirit of great American
leaders. Jurgen Klinsman is definitely not a great American leader. He doesn't deserve this mantle - USMNT coach. He should
read Team of Rivals - the biography of Abraham Lincoln - if he wants to get a sense for who we are and how we win.
I cannot bring myself to root against the US this summer - and I hope I am wrong about Jurgen.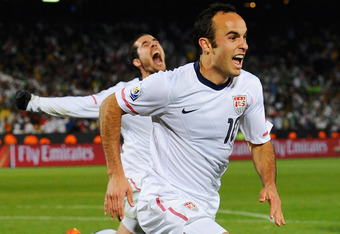 Stating the case for the USA
2014 - USA 2, Portugal 2 (World Cup Finals) --- Watch
2014 - USA 2, Ghana 1 (World Cup Finals) --- Watch
2013 - USA 4, Germany 3 --- Watch
2012 - USA 5, Scotland 1 --- Watch
2012 - USA 1, Venezuela 0 --- Watch
2011 - USA 1, Italy 0 --- Watch
2011 - USA 1, Argentina 1 --- Watch
2010 - USA 1, Algeria O (World Cup Finals) --- Watch - called by Anders Cantor
The goal above as it was viewed at Marauder Soccer Camp 2010: this was the scene at MSC
2010 - USA 1, England 1 (World Cup Finals) --- Watch
2009 - USA 2, SPAIN 0 (Confederations Cup Semi-Final) --- Watch
2007 - USA 2, Mexico 1 (World Cup Qualifying) --- Watch
2002 - USA 2, Mexico 0 (World Cup Finals Round of 16) --- Watch
2002 - USA 3, Portugal 2 (World Cup Finals) --- Watch
2002 - USA 2, Uruguay 1 --- Watch
1999 - USA 1, Argentina 0 --- Watch
1998 - USA 1, Brazil 0 (Gold Cup Semi-Final) --- Watch
1995 - USA 3, Argentina 0 (Copa America Finals) --- Watch
1994 - USA 2, Colombia 1 (World Cup Finals) --- Watch
1993 - USA 2, England 0 ---
1993 - USA 0, Peru 0
1993 - USA 0, Bolivia 0
1993 - USA 0, Hungary 0
1993 - USA 0, Russia 0
1993 - USA 1, Romania 1 --- Watch
1993 - USA 2, Denmark 2
1992 - USA 1, Italy 1 - Watch
1992 - USA 1, Portugal 0 --- Watch
1992 - USA 3, Ireland 1 --- Watch
1991 - USA 1, Turkey 1
1991 - USA 1, Ireland 1 --- Watch
1991 - USA 2, Romania 0
1991 - USA 2, Mexico 0 (Gold Cup) - Watch
1991 - USA 1, Uruguay 0 --- Watch
1990 - USA 0, Soviet Union 0
1990 - USA 3, Poland 2 --- Watch
1990 - USA 3, Poland 1
1990 - USA 2, Finland 1 --- Watch
1989 - USA 1, Trinidad and Tobago 0 (World Cup Qualifying) --- Watch
1950 - USA 1, England 0 (World Cup Finals) --- Watch
Chronicle some of the great USA moments that happened during the tenure of MSC. While the camp watched, this happened . . .
Clint "Deuce" Dempsey became the training inspiration for the 2010 MSC campers. The camp would often watch the "Don't Tread on This"
video right before going out for training:
In Brazil 2014 the US will have to once again rally and play THE GAME OF THEIR LIVES….like they did in the 1950 World Cup in Brazil.
In 1950 the US shocked England 1-0. A movie was made about that game called The Game of Their Lives.
Former MSC Guest Coach Nelson Vargas starred in that movie. Here is the movie trailer:
Want to get fired up for the USA for Brazil 2014? Watch this rendition of the Star Spangled Banner - Chicago-style (1991 NHL All-Star Game -
Chicago Stadium). This isn't about soccer, but it is about unbridled American spirit . . . Click here.
Or this one. It's baseball but its cool. Stick with this - it takes 8 minutes . . . Click here.